EG Aircraft thanks you for your purchase and wishes you much fun with the Spitfire MK IX
================================================== ================================
This being a truely legendary aircraft, we tried to make it as realistic as Second Life would allow.
Takeoffs and landings, in all versions, will end with engine fires , splashes, crashes and explosions if the procedures are not followed correctly.
In other words: do not crash into any obstacle, do not hit the ground, do not crash into another plane, fly as if your life was at risk and think about a good parachute! Otherwise ... read your favorite prayers book !
CONTENTS OF THE BOX
===================
1 Display Rezzer Spitfire MK IX Vx.xx (put the rezzer down and it will a display, but if you click on it, you can choose the version you want it to be and fly away. This is only a very tiny script that most airport owners should not have a problem with)
1 DISPLAY Spitifire MK IX
Gesture 1 F1 (payload release)
Gesture 1 F5 ( select rockets)
Gesture 1 F6 (select bombs)
1 Manual in French
1 Manual in English
1 Spitfire History
1 Parachute
FLIGHT CONTROLS
==================
1 / Up "arrow down" and down "arrow up"
2 / Turn right or left, respectively "right arrow" or "left arrow "
3 / Increase power "PgUp", reduce power "PgDown"
HUD and COCKPIT descriptions
=====================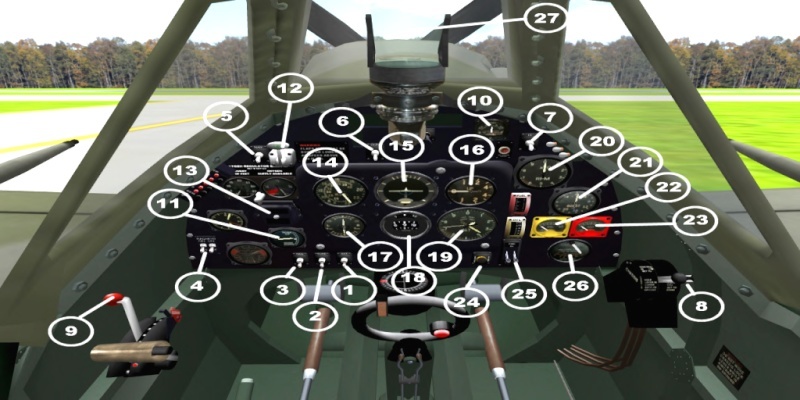 1 - Baterry
2 - Fuel pump
3 - Générator électric
4 - Magnetos
5 - Navigation lights
6 - Gunsghit
7 - Landing light
8 - Gear
9 - Mixture
10 - Voltmeter
11 - incidence meter
12 - Flaps
13 - Gear indicator
14 - Speed meter
15 - Artificial horizon
16 - Vertical speed
17 - (not functional)
18 - Heading
19 - Altimeter (metres)
20 - Power (%)
21 - (not functional)
22 - Oil temperature
23 - Rad temperature
24 - Start
25 - Fuel valve
26 - Fuel tank level
27 - Gunsghit (head up display)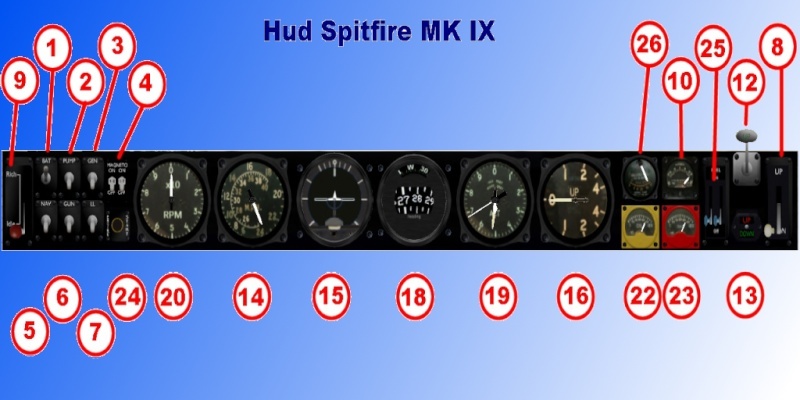 Chat commands Spitfire MK IX
==========================
Common commands for versions "Easy" and "Real"
-------------------------------------------------- ------------------------------
f = flaps up / down
g = gear up / down
br = brakes (auto released when powering up)
ch = Chocks (speed must be set to 0 for chocks to rezz) (note: the chocks are present only if the aircraft is present)
cc = canopy
c = change the camera (flight / taxiing)
hud= gives the hud, accept the attachement
payload = Rezzes aircraft rockets and bombs, accept the attachment.
anim = use this command only when, after a bad sim crossing , you are in control again, but the camera and the position of the avatar are messed up.
(For combat versions)
Vice on = Vice enabled
Vice off = Vice disabled
g1 = 7.70 mm Browning machine guns (LMG) (option selected by default)
g2 = Hispano Mk II cannons of 20 mm (HMG) (note: does not work against avatars (in a vehicle or not))
b = Payload release (firing) (or F1)
p1 = selects the rockets (or F5) (option selected by default)
p2 = selects the bombs (or F6)
Special commands for "Easy" versions
----------------------------------------
start = starts engine
stop = stops engine
Special commands for "Real" versions
----------------------------------------
bat = battery on / off
fuel = Fuel valve circuit open / close
pump = fuel pump on / off
m = mixture on / off
mag = 1 and 2 coupled magneto on / off
gen = Electric generator on / off
l (lowercase letter L) = navigation lights on / off
p = landing light on / off
ght = toggles the gun sight (head up display) on / off
refuel = refueling of the aircraft. Afterthe pump rezzes, click the pose ball to refuel. To complete the refueling stand up . (You will receive a chat message when the tank is full.)
ROLLS ROYCE "Merlin"
====================
Startup procedure
-------------------------------------
1 / Battery: ON (bat)
2 / fuel valve system: OPEN (fuel)
3 / Mixture: Full rich (m)
4 / Throttle: 20% (PgUp x2)
5 / Fuel Pump: ON (pump)
6 / Magneto: ON (mag)
7 / Start (start)
8 / Wait until temperature gets at 50% minimum, (yellow and red gauges) before applying power
9 / Gas: 0% (PgDown 2x)
10 / electric generator: ON (gen)
10 / Remove the chocks (ch)
The plane is ready for takeoff
Note: Do not forget to close the canopy (cc)
Shutdown
--------------------------
1 / Gas: 0%
2 / Set the chocks after the full stop (ch)
3 / Mixture: Closed (m)
4 / Battery: OFF (bat)
Note: Do not forget to open the canopy before standing up from the plane even with good helmet !
9 / Refuel the plane if you want to go back up. (Refuel)
================================================== ===================================
Note: attachments are not transferred in the inventory, so your inventory will remain clean.
================================================== ===================================
DESCRIPTION OF HUD
===================
Note: the hud disappears when you switch to mouselook (subjective view)
1 - airspeed (km / h) (equivalence calculation 100m / s rl = 10m / s sl)
2 - Artificial Horizon
3 - Compass (in degrees)
4 - variometer (VSI)
5 - Altimeter
6 - Power indicator (pgup / PgDown)
THE COMBAT SYSTEM "VICE"
==========================
You can shoot 4 rockets rounds of 4 rockets each or drop 4 bombs before reloading.
Warning: This combat system shall in no case be used for griefing. This is a WWII fighter plane that should only be used on targets that are agreed. EG Aircraft is in no way responsible for the use of its aircraft by their owners.
It is every pilot to follow the rules established by Linden .
BEST SCULPTIES AND MESH RENDERING
==========================
For a correct display of your sculpties, see below.
LOD debug: Debug your settings LOD is a setting that will bring up all your sculpties perfectly. Just follow these steps:
1. Open the "Advanced" menu by Ctrl-Alt-D, or Opt-Ctrl-D on Mac.
2. Select "Debug Settings" in the list.
3. In the blank field, copy and paste this text:
RenderVolumeLODFactor
4. It is recommended to choose a value between 4 and 6.
Thanks to Ghanni Lane!
===============================
we thank Kearns Sparta and Serena Lexington for their tests and advices.
EG-Aircraft wishes you good flights
To better serve you, your comments, suggestions or questions can be written on the site:
https://egaircraft.bbactif.com
contact in world:
Erick Gregan
Kahlan Bingyi (sales and special orders)
Serena Lexington (demo's and technical questions not answered on the site)
Note: EG Aircraft (Erick Gregan) can not be held responsible for any changes made by
Linden Research, Inc. in "Second Life" or any malfunction during the operation of the aircraft due to the quality of service offered by
Lind